We are the leading manufacturer of the non-woven bag-making machine, made up of high-grade raw materials. These machines have stood upon the required standards for the non-woven bags. It produces 100% recyclable non-woven bags, they are like a stroke of luck for the environment as they are biodegradable, when burnt they do not produce toxic gases.
Non-woven plastic bags are widely used in malls, supermarkets, grocery stores, and many more places.
Non-woven bags are primarily used to promote various brands that are the main reason for being flooded in the market.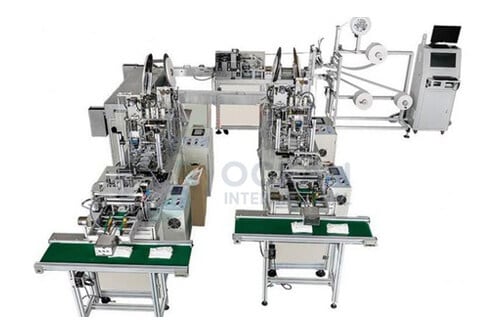 Salient features of the Non-woven bag making machine:
Applications of the non-woven bag machines:
At ocean international, we are involved in manufacturing non-woven bag-making machines specifically designed to produce non-woven bags of different colors, sizes, and designs. 
These machines are highly involved in boosting the production capacity and that too with accuracy. Non-woven bag-making machines can efficiently produce different kinds of bags from different types of non-woven fabrics.
We provide highly efficient machines that reduce the cost of production of non-woven bags on a large scale.
Non-woven bag-making machines are available at reasonable rates.
Ocean international is the leading manufacturer and supplier of plastic packaging machinery, slitting machinery, rewinding machinery, extruder machinery, plastic machinery, face mask machine manufacturer, folded face mask making machine, nonwoven mask machine manufacturer, and printing machinery.