Manufacturer of Rotogravure Printing Machine Supplier in India
Rotogravure printing machine is widely used in commercial businesses like the production of postcards, magazines, newspapers, and corrugated cardboard, and other packaging materials also.
Rotogravure printing machine comes with heavy-duty and high-speed printing performance. This machine is used for flexible packaging and printing process of various materials like polyester, nylon, BOPP, foil, low, and high-density polyethylene polypro plane and paper.
Rotogravure printing machines are widely used in photography and fine arts production sectors due to their high-density range in printing. It is generally used in packaging sectors and food manufacturing.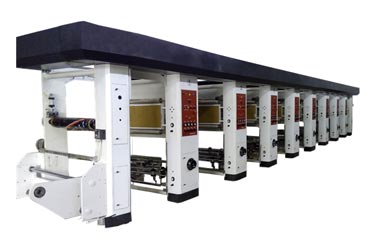 Rotogravure machines can print on different materials including PET, CPP, OPP, PVC, PET, and paper. It uses a cylinder that is engraved with minute cells that are capable of retaining the ink and pattern size of the required image. The cells present in the cylinder are forced to transfer their ink directly to the substrate by the combination of pressure and action by producing the printed image. The process is known as gravure printing, commonly used in the manufacturing of food packaging, labels, wall coverings, security printing, industrial, and tobacco segments.
Components included in the rotogravure printing process:
Ocean international is the leading manufacturer and supplier of plastic packaging machinery, slitting machinery, rewinding machinery, extruder machinery, plastic machinery, face mask machine manufacturer, folded face mask making machine, nonwoven mask machine manufacturer, and printing machinery.
We manufacture rotogravure printing machines that have undergone stringent quality checks to ensure smooth operation and efficient performance. We provide rotogravure machines at reasonable rates. We never leave any chance of disappointment for our clients. We are specialized in our machines.