BOPP Tape Coating Machine Plant Complete in all respects With Two Web Aligner Units, Heaters, Blower, Motor with Panel and all accessories as per Technical Specification :
Machine Type : Coating Machine
Lamination Web Width : 1350 mm – 1650 mm
Machine Speed : 30-40 Mtrs/min
Maximum Roll dia : 800mm Unwind / Rewind
Machine Height x Width x Length : 10 x 980 x 75 feet
Main Drive : One common D.C. Motor
Chilling Roller Drive : D.C. Motor
Unwind Drive : Mechanical Break
Winding Drive : D.C. Motor with Dimmer
Impression Roll Function : Manual
Doctor Blade Function : Manual
Drying Chamber : Electric Heating Systems
of Drying Chamber : Eight
Web Guiding : Auto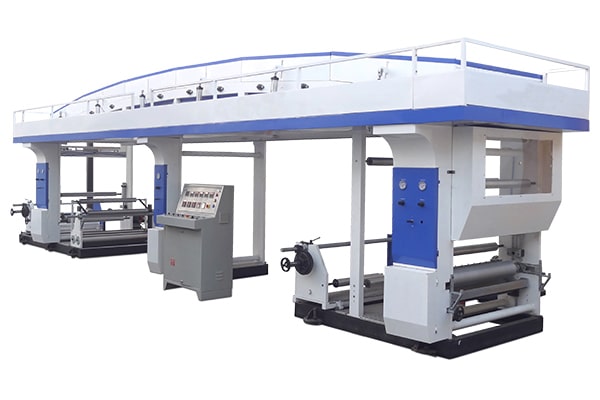 Electric Connected Load
Main Drive : 5 H.P. D.C.
Chilling Roller Drive : 3 H.P. D.C
Blower : 1 H.P. x 8
Heater System : 24 KW
Exhaust Blower : 2 H.P
Web Aligner : 2 H.P
Winding Drive : 5 H.P. D.C.
Unwinding Unit
2 Nos. all side shaped C.I. Plates / Maximum outer reel dia 800mm
1 o. Unwinder Shaft (EN-8) mounted on bearings both the side with Check Nut and Core Holder
Web Aligner Unit compete with Tracking Frame
Unwinding Tension controlled with mechanical break by manually or Auto Tension
Controller (if required)
Coating Station Unit
2 Nos. all side shaped C.I. Plate 45mm
Plate Height – 1500mm x Width – 500mm x 45mm Thickness
Aluminum Guide Roller with (EN-8) shaft, collar with bearing
Gear Box with highly efficient spiral bevel gears with neutral arrangement,
Inches Roller (Engraving) and Rubber Roller with fixed shaft connected to the sliding bracket with bearings Both the side, Rubber Roll will be functioned & operated manually or pneumatically (if required)
Mare bar Systems System with assembly, this assembly is forced on the (Inches Roll) Coating Roll. It will be Functioned & operated manually or pneumatically (if required)
Gum Tray for Coating Station
Blind temperature controller / indicator
Electrical and Electronic Unit
Three Motor with synchronized system with common control cabinet having control for main switch for electrical supply with speed control thyristor, temperature indicating controller, one off switches for blower ,heater, web guiding etc.
Emergency push button at coating station will be provided
Electrical connections are as per mention above in electric connected load.