Multilayer Blown Film Plant Machine Line Press
Multilayer Blown Film Plant are used for varied crucial application in flexible packaging, which demand vital film properties like dart impact strength, puncture resistance, hot tack strength, gloss, oxygen and moisture barrier etc.
Multilayer blown Film Plant material is comparatively strong than two layer and mono layer blown films. It has strong impact in packaging industry as this product bears multiple protection properties including puncture and heat resistant, less or zero attraction to moisture and oxygen, etc. Multilayer Blown Film Plant is suitable for producing high barrier wrapping and stuffing material for packing food products, processed fluid consistency food items, etc. Multilayer blown Film Plant can also be produced with this machine.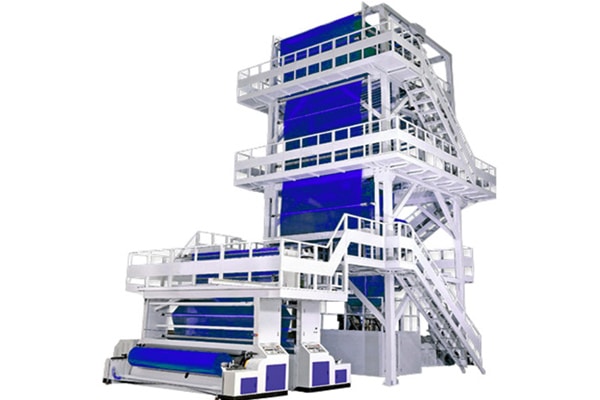 Ocean International is a leading plastic extrusion machinery manufacturer & exporter in India, having core expertise in comprehensive range of extrusion machinery for plastic including plastic extruder such as multi layer blown film plant, mono layer blown film plant, air bubble sheet plant, raffia tape stretching plant, extrusion coating lamination plant, co-extrusion two layer blown film plant, Mini BOPP Tape Slitting Rewinding Machine PP-TQ blown film plant, monofilament plant, Sutli plant, PP box strapping line, HDPE box strapping line, PET box strapping line and plastic reprocessing plant. Ocean extrusions Pvt Ltd is a well known trusted name for providing customized solutions of plastic extrusion machineries.
Other Details of Multilayer Blown Film Plant :-
Technical Specification :
DESCRIPTION
UNIT
OESMBL1250
OESMBL1500
OESMBL1700
OESMBL2100
 PROCESSING DATA
 Film Lay flat width Range
MM
600-1250
900-1500
1000-1700
11400-2100
 Film Thickness Range LIVLD/HD
MICRON
20-150
 MAXIMUM OUTPUT
 LD-LD-LD
KG/HR
180-200
200-200
220-240
220-240
 LLD-LLD-LLD
KG/HR
160-180
180-200
200-220
200-220
 HD-LD-HD/LD
KG/HR
170-190
190-210
210-230
210-230
 EXTRUDER
 No. of Extruders
30:1
 Option
MM
50-50-50
55-55-55
55-55-55
55-55-55
 Option
MM
–
50-60-50
50-60-50
50-60-50
 Extruder-motor Rating For Option 1
22-22-22
30-30-30
30-30-30
30-30-30
 Extruder-motor Rating For Option 2
KW
–
22-45-22
22-45-22
22-56-22
 Gauge Randomization
REVERSING HAUL OFF
 DIE
 Die Lip Size
MM
I^H 300 HI
350
425
 TAKE OFF
 Die Lip Size
MM
1350
1600
1800
2200
 Main Nip Motor
HKW 1
 TWO STATION SURFACE WINDER
 Type
MM
(SEMI-AUTO)
SEMI-AUTO
SEMI-AUTO
SEMI-AUTO
 Roller Width
MM
1350
1600
1800
2200
 Additional Nip Motor
KW
 —Her Drive Motor
KW
 Max. Wound Diameter
MM
600
800
MTRS/MIN
8-80
8-80
8-80
8-80
 OPERATING REQUIREMENT
 Total Connected Load For Option 1
KW
146
172
175
194
 Total Space Requirement (L X W X H)
MTR
16X10X12
15X10X13
16X10X12
18X10X14
Related Searches – Multilayer Blown Film Plant, Multilayer blown film machine, Multilayer blown film machine, Multilayer Film Plant at Best Price in India